We Do Belong. We Just need A LIttle Help!
I say "we" because I too feel like an imposter most of the time. I deal with perfectionism and anxiety based procrastination. Most times, I don't even start a project because I'm often wondering if it's going to be good enough and would people like it.
After blogging for over five years, I STILL feel like an imposter because I'm not seeing the results I want. What results am I looking for? I'm looking for what you're looking for… right? We just want to overcome imposter syndrome and become a better blogger. We want to feel authentic, be authentic and still get real results.
Even though I blog to be transparent and share my experiences and tips to deal with mental health, skincare, haircare, etc, I'm often looking for the results I see from some of my favorite bloggers and vloggers. I'm often looking for brand deals, revenue, blog traffic, followers, and more.
"They have it. So, why can't I?", I think to myself.
However, most of my favorite bloggers say that there's more to it than what we see. It's not all sunshine, rainbows, trips to the most luxurious places around the world, Lamborghini's, and a perfect closet filled with coach purses. Even my favorite and most successful entrepreneur, (big sister in my head) Nicole Walters (former blogger, now brand strategist), has even spoken about her issue with imposter syndrome.
So, how can we overcome imposter syndrome and become better bloggers? I've got eight tips to share with you. In this post, we'll start with the first four.
Note: This post does contain affiliate links. It's completely free to click on them. If you chose to make a small purchase after clicking them, I'll earn a small commission.
1. Courage can come from joining a group of bloggers.
There are tons of networking groups, social media pages, and sites where bloggers of a particular demographic and niche can come together to ask questions, share ideas, share tips, create content for one another, and so much more.
The best part about these groups is that you'll find someone else who has or does feel the same way do you. It's one of the reasons why it pays to be around and socialize with people who are like-minded. They know imposter syndrome, but they also know about success and financial gain.
They know imposter syndrome, but they also know how to crank out multiple blog posts a week. I could keep going to say that joining groups can help you gain confidence in yourself and help you reach your goals.
If you happen to be looking for a group or tribe to join, I recommend joining Tailwind Joining Tailwind will not only help you find like-minded people, but it will also help you to share your content and increase the traffic of your blog and social media pages. With Tailwind, you can also create your own special or exclusive tribes and meet and follow other bloggers.
For example, I have created a tribe and safe space for black lifestyle bloggers. In my tribe, we often share posts from our blogs and from others' blogs. We then also share them on Facebook and Twitter. With Tailwind you can also share your post from Instagram to tell when they're for sharing it to your favorite Pinterest page.
For more tips on blogging, follow my Pinterest page for bloggers and moms who blog.
2. Ditch Perfectionism.
Perfectionism is a beast that I know all too well. As I mentioned before, there are times when I don't even start a project because I'm afraid of what people will think and at times I often feel as if I'm not equipped to handle the task. Some days, I feel that my ideas are dumb and some days I feel like my ideas are amazing but they come with a lot of pressure. Sometimes, I get so excited about an idea my body confuses anxiety and excitement and then I feel like I can't do it
So, what have I been doing? I've been working to do it anyway. Do it afraid! I do it anyway because the worst that can happen is I'm told no, I won't get any clicks or traffic, or no one reads it or watches it.
The best that can happen is that someone does read my posts, someone gets help from them, I'll earn affiliate and/or sponsored revenue, and all the good things can happen! I wouldn't know any of the results (good or bad) until I try to do it.
3. Narrow down your niche.
I've been told by two mentors, my blogging mentor, and my business mentor this phrase. They both said (on two separate occasions), "You can't be everything to everyone." I never said to either of them that I was trying to be everything to everyone. It's just that I had all the symptoms of trying to be everything to everyone and they sensed that immediately. Maybe, it's because they know what it's like started to start off and be so excited and so gung-ho about what you want to do and still don't get any of the things done because you're trying to be everything to everyone.
You ask, "What does this have to do with imposter syndrome?" It has a lot to do with a person not being able to accept their work as good enough and hoping that someone will find their work acceptable. Yet, live in fear that they will be discovered to be a fraud.
Some minorities are more likely to have this problem as we are often told that we have to work twice as hard to be considered half as good as our white classmates and colleagues. In our society, our work is often treated as being "not good enough" to credit us, but good to steal without due credit.
Source: https://www.apa.org/gradpsych/2013/11/fraud
4. Find Mentorship From a Successful Blogger.
I'm not sure if I'm ready to become someone's blogging mentor. However, one of the best things I did was begin to follow the advice of a content creator I've been following for almost 9 years, Jenell B. Stewart. I started following her for advice on natural hair and learned that she started offering coaching sessions on blogging. It was during a point where I was getting NOWHERE with my content or my following. I was stagnant. I HATE being stagnant!
Since I've been getting her advice from one of her courses (The Paid Pitch), I've increased my following on social media, improved the quality of my content, became more confident in my abilities, and recently landed a partnership with a black woman-owned skincare company. Yes! And BABY, I'm still rising!

If you feel that you are struggling with creating content and need some guidance, I highly recommend that you should enroll in one or more of her courses. Some of her courses will come bundled with her other courses. So, you will always get valuable information on top of more valuable information.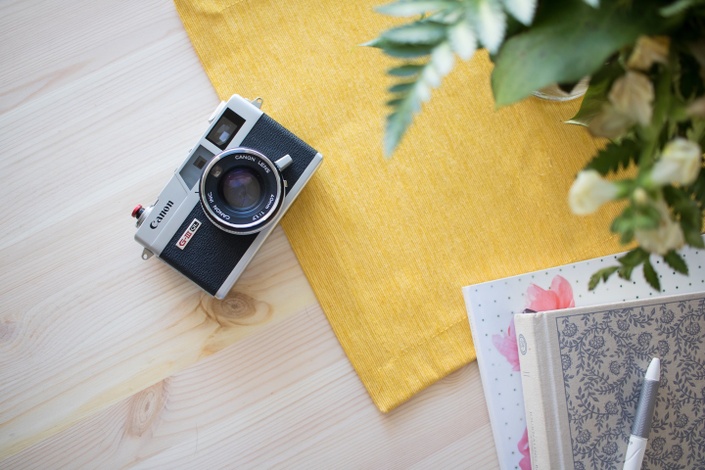 So, those are my first four tips to show you how to overcome imposter syndrome and be a better blogger.
Do you have any tips or questions about becoming a better blogger and dealing with imposter syndrome? How to Overcome Imposter Syndrome and Be A Better Blogger? Leave me a comment!
Talk to you soon.
Love, Ebony!
~Ebony
My YouTube Channel.
Facebook, Twitter, & Instagram.