Yo!
Did you read #HealZone Journal Prompt: Day Eight? You should before you read this one. 🙂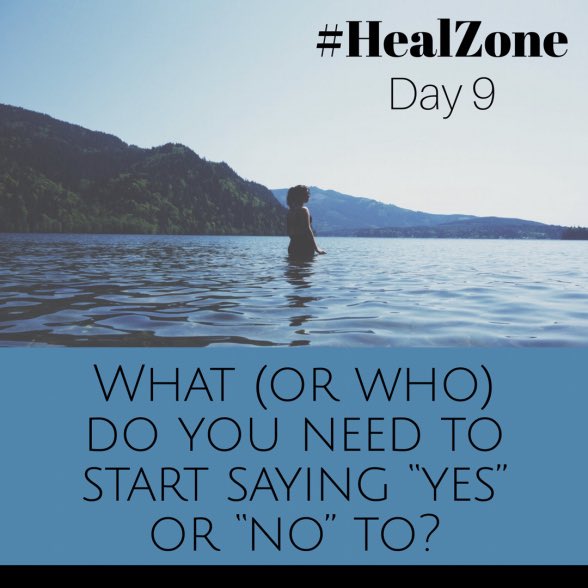 Question: What (or who) do you need to start saying "yes" or "no" to?
Response:
I need to do both to everyone including me. I've been saying "yes" to the wrong things or the right things at the wrong time. I've been saying "no" to the right things that scare me and make me feel like the worst will happen to me if I do what needs to be done.
The ones that I have been saying "no" to for the longest is God and myself. Although, it is necessary for me to deny my flesh and do what is right. In addition to that, I have been saying denying time with Him and time to myself. I've been denying my needs to make room for the wants of others. Doing that has brought me to a very low place many times. So low, that there have been times when I thought God couldn't hear me and I couldn't hear Him.
So, recently by the grace of God, I said "yes" to investing a little money into stock, into my son, into myself, my home, and my business of blogging and vlogging within the last 24 hours. I have learned so many lessons this past year that I am very much determined to never go through them again.
I've started saying "no" to my old poor habits, my gluttony, and self-harm with food. I am doing my best to delay gratification in order to change my life and just try to do things differently.
I'm saying "yes" to sleep, raw green foods, and shopping online for myself. Don't worry, ya girl knows how to stretch a dollar AND get rebates back.
I feel very proud of myself and most importantly, I feel like I got a second wind in my lungs for praise. I'm not a very charismatic woman and I never have been, but I can tell you that lately, God has been giving me back everything I had to watch slip away from me. I was scared to death to have to let go of what I had to leave last year. I'm glad I did. I ended up somewhere new and refreshing. Now, I'm really ready to see what else He's going to replace.
I'm more willing to say "Yes" and "No" now!
How about you? Let me know in the comments.
Talk to you later!
Ebony